Auto Dealerships: A Multi-Faceted Approach to Risk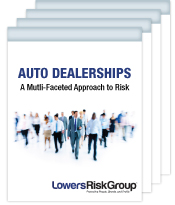 Every dealership faces risk. If ignored, small problems can turn into big ones. In our current economy the stakes are high.
Now, more than ever, dealers can ill afford to make the wrong decisions when it comes to risk, decisions that ultimately affect their employees, their business, and their customers.
In this whitepaper, we delve into the methods for auto dealerships to properly assess and mitigate risk.
By using established methods and proven processes to assess and classify risk, assess its relevance and impact, implement risk mitigation measures that incorporate industry best practices, and create metrics to cost-effectively manage risk, dealers will be able to make more prudent business decisions and thrive in both good times and bad.
Complete the form on this page to recieve your copy of this whitepaper.