Occupational Fraud Management & Crime Insurance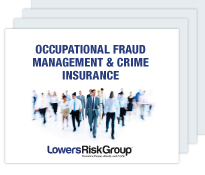 If your organization has crime exposures, you need to understand occupational fraud and the methods proven to mitigate it.
This presentation, featured at the Risk Management Society (RIMS) 2013 Conference, explores many facets of occupational fraud management.
What's Inside:
Statistical analysis, including industry and department breakdowns
The role of corporate culture
The Fraud Triangle
Whistleblower solutions
Background screening
Due diligence investigations
Vendor fraud
Remote location fraud

Presented at RIMS 2013 by: Mark Lowers, President & CEO, Lowers Risk Group; Danny Pack, SVP, Risk Management, Loomis US; Frank Scheckton, Jr., President, Fidelity/Crime Division, Great American Insurance Group'
Complete the form on this page to request your copy of this presentation.