Payroll Fraud: Hidden Dangers in Every Transaction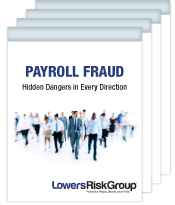 Payroll, like fraudulent billing schemes, relies upon false documentation being used to cause the victim company to make a fraudulent disbursement.
The total lost revenues due to fraud and abuse are estimated to be over $3.5 trillion annually worldwide, 9.3% of that figure is attributed to payroll schemes.
The typical payroll and hiring processes, their common vulnerabilities, and compensatory measures are explained in depth in this whitepaper. Three case studies also provide examples of fraud that are pinpointed at their occurrence.
Complete the form on this page to receive your copy of this whitepaper.