Resources
Lowers Risk Group Named to Inc. 5000 Honor Roll, Among America's Fastest-Growing Private Companies for 5 Consecutive Years
Lowers Risk Group joins the Inc. 5000 Honor Roll as a 5-time honoree, this year ranking number 1443 with three-year sales growth of 324%.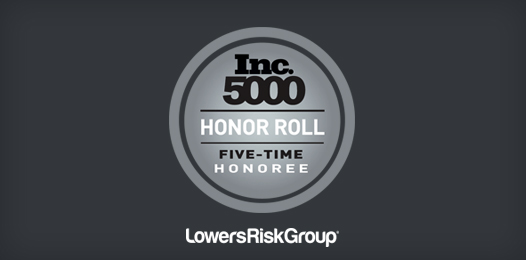 August 16, 2018 (Purcellville, VA) - Enterprise risk management solution provider, Lowers Risk Group, announced that it has again been named to the Inc. 5000 list of fastest-growing privately held companies in America. As a five-time honoree, Lowers Risk Group also enters the ranking's Honor Roll, an achievement less than one-tenth of Inc. 5000 honorees have attained.
Mark Lowers, President and CEO of Lowers Risk Group remarks, "It is a proud moment for our entire organization to not only appear alongside an incredible group of companies on the 2018 list, but to join the Honor Roll among some of the most successful companies in history. To have sustained a high level of growth over five consecutive years is a testament to the vision and commitment of the entire Lowers Risk Group team."
The Inc. 5000 list is regarded as the most prestigious ranking of the most successful companies within the American economy's most dynamic segment--its independent small businesses. Microsoft, Dell, Domino's Pizza, Pandora, Timberland, LinkedIn, Yelp, Zillow, and many other well-known companies gained their first national exposure as honorees on the Inc. 5000.
Lowers Risk Group has appeared on the list each year since 2015, and in 2016 it earned recognition among the top performers by making the Inc. 500 list. The company is based outside the nation's capital in Purcellville, Virginia and offers enterprise risk management solutions with a focus on employment screening, tenant screening, forensic accounting, and risk mitigation services.
Remarking on the significance of appearing on the Inc. 5000 list for five consecutive years, James Ledbetter, Editor in Chief of Inc. Media wrote, "Needless to say, making the list gets harder every year as your starting base grows. Of the tens of thousands of companies that have applied to the Inc. 5000 over the years, only a fraction have made the list more than once. A mere one in ten have made the list 5 times."
To learn more about Lowers Risk Group visit www.lowersriskgroup.com. Complete results of the Inc. 5000, including company profiles and an interactive database can be found at www.inc.com/inc5000.
« Back to Resources